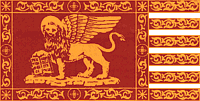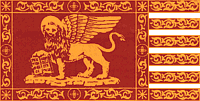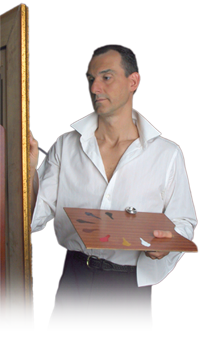 Gallery :




Artists, painters, portraitists: Franco Polo is among the Great Italian Artists. With his classical painting techniques he paints portraits, still life and landscapes.
This Venetian artist paints amazing masterpieces of very fine colours and realism. He is one of the famous Italian artists. On his website you can find:
- Artist: individual studies on masterpieces of famous Masters, seen in some of the most important European museums.
- Painting technique: his use of classical techniques, with the preparation of canvas through the use of veilings.
- Art gallery, paintings: in the website you can find all of his most important works, such as portraits, still life and landscapes.
- Contacts: email address.
The Artist
Although I studied accountancy and did business studies in a vocational high school and I get my diploma when I was 18 years old, I have been keen on Art since I was a child. I have always been fascinated by Venetian and Italian School paintings from 1400 onwards. After finishing my school studies I hoped to acquire some classical technical training in the artistic discipline which I like best – painting itself. I looked for someone who could give me some practical training in classical painting and in particular in the Venetian style amongst all the Academies and Art High Schools.
Soon, however, I realised that the schools today do not have either the human or technical resources of the Old Masters, that are necessary to obtain vast training in the Italian School style and to be able to create paintings of that kind of value. So I gave up my job and began my own personal artistic development starting from the making of the colours themselves, according to ancient recipes. Therefore, I had to look for companies which could still supply me with the materials essential for the preparation of these colours: selected both basic and organic pigments, pure linseed oil, turpentine oil, mastic varnish for the final touch up and protective preparations for the background, and so on. At the same time I visited various galleries in Verona, Padua, Venice, Milan, Florence, Rome and Paris to study personally the paintings of the Great Venetian and Italian Masters.
Now after years of study and experiments carried out personally, I feel I can say that I have acquired a complete technique, with my own style and which enables me to reproduce any work of Art, having acquired a solid foundation in this area. Today my works range from portraits to still life and even to landscapes.
As well as some personal exhibitions in various Art Galleries, my most significant shows have been:
- Exhibition at the Contemporary Art Gallery of Verona in Palazzo Forti, where, after a selection of artists, the Gallery gave me the opportunity to exhibit my paintings;
- Exhibition at the CO.VE.RE. (Venetian Restoration Consortium) which asked to use my paintings to create the right kind of setting for the important centre dedicated to the maintenance of all historical works of Art;
- Exhibition at the Antico Caffè Ristoratore "Dante" in Verona, which is one of the most historically refined and important cafés in the City.